April 5 Tigers 51 Coatbridge 45 (Champagne Derby)
Tigers home season gets off to a dramatic start with Jim McMillan most fortunate to avoid serious injury in a first race pile up. He slewed round coming out of the second bend and lay right in the path of Doug Templeton, who instinctively knew he had neither the time nor the space to lay his bike down. Instead, he pulled his front wheel high in the air, so that his engine block would miss the fallen Tiger. All the same his back wheel seemed to run over McMillan's head! The badly shaken Tiger was helped back to the pits. Lars Jansson goes out and wins the rerun, on his home debut. Amazingly, after missing two races, Jim McMillan returns to race later in the meeting and gets two second places.
Berg continues his dominance of the Paisley Road West circuit and notches up a maximum, ably supported by impressive debutant Jansson and Bo Josefsson. Dent is missing from the Tigers line up. He has had to sell his bike to clear an outstanding tax bill. This leaves Tigers weak at the tail end, particularly when it is seen that Bill McMillan and Brian Whaley's points totals are boosted by the 5-1 they took over the inexperienced Collins and Hughson pairing.
Tigers Scorers
Berg 15, Jansson 11, Josefsson 10, B McMillan 4, Whaley 4, J McMillan 4, W Templeton 3:
Coatbridge Scorers
Persson 14, Hunter 12, D Templeton 9, Eide 4, Collins 3, Harkins 2, Hughson 1:
Jim McMillan's escape from serious injury would prove to be a pivotal moment in Tigers survival. It doesn't bear thinking about but had he missed the early season his rapid development into our number one would surely have been curtailed and, without it, it is questionable whether we would have survived the season.
It is a narrow margin between success and disaster. This was amplified two days later when Jim Clark, Scotland's greatest motor racing driver, was killed when spinning off the track in a race in Germany.
April 6 Coatbridge 54 Tigers 42 (Champagne Derby)
Tigers open the new Coatbridge track but have great difficulty in supplying heat winners Jim McMillan wins heat three as Tigers take a 4-2 over Templeton and Collins. While Willie Templeton puts in a barnstorming first corner in heat seven that nearly has Bernie Persson heading to the second bend pie stall! Oyvind Berg takes advantage of this to nip through into second place. ….. and that was our lot! Jansson, Josefsson and Berg have little difficulty in out pacing the Monarchs second strings while never really challenging Doug Templeton, Hunter or Persson. Again Bill McMillan and Whaley are struggling for points and Hughson and Collins take a 5-1 to avenge the previous night.
The lighting on the new track relies on the football floodlights and the bends have some dark patches. Jansson and Josefsson are particularly unhappy with this. The problem is rectified the following week by erecting pylons at the apex of both bends.
Tigers Scorers
J McMillan 11, Josefsson 10, Berg 9, B McMillan 3, Jansson 5, W Templeton 3 Whaley 1:
Coatbridge Scorers
Hunter 15, D Templeton 14, Persson 13, Harkins 4, Hughson 3,Eide 3, Collins 2:
April 12 Tigers 47 Leicester 31 (British League)
Tigers get tore into new boys Leicester. Jim McMillan scores his first ever maximum, while Anders Michanek ensures that Josefsson and Berg do not join him in the unbeaten stakes. On the well prepared track, describe as being "deep pile" – sounds like a carpet! – there are many close races, but surprisingly the times rarely break the eighty second barrier. Surprisingly,this will be a feature of the season.
Hart and Major are delayed en route and are late arrivals. This seems to put them off their stride and their scores reflect this. Ray Wilson has a quiet night and Michanek is the only visitor to impress although Boulger has his moments and scores consistently, second place in all his races. Lars Jansson, after being blocked out in his first race, is unbeaten thereafter and twice beats Michanek.
Tigers Scorers
J McMillan 12, Josefsson 11, Berg 9, Jansson 7, B McMillan 4, W Templeton 4, Whaley 0
Leicester Scorers
Michanek 9, Boulger 8, Wilson 5, Storer 5, White 2, Hart 1, Major 1:
April 13 Coventry 48 Tigers 30 (British League)
Brandon has never been a happy hunting ground and tonight is by no means our worst score there. Josefsson and Bill McMillan take a 5-1 in heat eleven after Owen has fallen and that is our only joy tonight. Jim McMillan leads Boocock for a couple of laps before being passed but Boocock and Mountford have things their own way. Jansson certainly gives it a go, with two falls in his five rides.
The Coventry program's attempt a humour, at least I think it was, falls flat when commenting "Tigers' team manager, voluble Neil Mac, might well be understood quite clearly in Kirkintilloch, but when he's talking to us on the telephone he might just as well spend his bawbees talking to Moscow!" – how witty!
Tigers Scorers
J McMillan 7, Josefsson 7, Jansson 6, B McMillan 5, Berg 4, Whaley 1, W Templeton 0:
Coventry Scorers
Boocock 13, Mountford 12, Hill 8, Owen 7, Cottrell 5, Harrison 2, Ridley 1:
April 15 Newcastle 45 Tigers 33 (British League)
For Bill McMillan, it's another episode in the long running serial "The nightmare of Brough Park"! Four rides and four last places, he really must hate the place. Things aren't any better for Brian Whaley who takes a heavy fall when crashing into the fence. Somewhat stunned he asks a member of the trackstaff about what happened. "you hit a light standard" he was told. Reportedly, he replied "thank goodness, it wasn't a heavy one!"
This is Newcastle's first home meeting of the season and some are still a bit rusty. Josefsson catches Olsen cold in heat two, while Butterfield and Wells have teething problems with their machinery. The only real joy for Tigers fans comes in heat nine when Jansson and Jim McMillan take a 5-1, Tigers only heat win of the night. Again our tailend weakness is exposed, and it is unfortunate that Russ Dent is still unavailable as his experience around the Brough Park circuit would have paid dividends tonight.
Tigers Scorers
Jansson 9, Berg 8, J McMillan 7, Josefsson 7, W Templeton 2, B McMillan 0, Whaley 0
Newcastle Scorers
Mauger 12, Olsen 11, Watkin 7, Gifford 6, Butterfield 5, Wells 3, Allan 2:
April 19 Tigers 47 Coventry 31 (British League)
Again Tigers have a field day against Midlands opposition. Coventry use rider replacement for the missing Rick France. Mountford, he of the ramming of Charlie Monk infamy, has a quiet night, although the White City faithful sill remember his misdemeanours from the previous season and give him "the bird" ahead of each outing – may be it put him off! Nigel Boocock is the only Bee to offer stern resistance, although Cottrell, uncharacteristically has his moments with two heat wins.
Russ Dent, having resolved his problems with the Income Tax people, returns to the side, and, after a first heat bike problem, scores five paid seven. Boocock beats Jim McMillan and Oyvind Berg in heat three but thereafter no one can get close to the Tigers pair. Lars Jansson loops at the start of heat seven when facing Boocock but is otherwise unbeaten. All in all, a convincing home win and at the interval a feel good factor pervades the crowd. Jansson looks quite a find, while Jim McMillan and Oyvind Berg look like becoming quality heat leaders. Perhaps we won't miss Charlie Monk as much as we thought! Sadly, we will and perhaps even more than first anticipated.
The trophy final sees Jim McMillan and Lars Jansson come home in that order ahead of Boocock. Berg withdraws from the second half with bike problems.
Tigers Scorers
J McMillan 11, Jansson 9, Berg 7, Josefsson 7, W Templeton 6, Dent 5, B McMillan 2:
Coventry Scorers
Boocock 12, Mountford 6, Cottrell 6, Owen 5, Hill 2, Harrison 0:
April 20 Swindon 61 Tigers 17 (British League)
It had been expected that Jansson and Josefsson would have to miss this meeting due to a Swedish engagement the following afternoon, and Pete Smith and the rider replacement facility would cover their absence. However, the highly enterprising LesWhaley arranged for them to join a specially chartered jet flying from Manchester in the early hours of Sunday morning – bet he wished he hadn't gone to the trouble and expense! Berg had worked on his bike until four in the morning and arrived at Swindon too late to take part – how frustrating!
The local reporter tells that Glasgow never gave up and provided some interesting battles with the Robins' second strings. Jim McMillan led Barry Briggs for more than a lap in heat eleven before Briggo roared past.
A lot of Tigers fans who didn't travel down had gone to Coatbridge, where the Monarchs ran up a big win against Oxford. The announcer gleefully told of our large defeat at Swindon. That just made our night!
Tigers Scorers
Dent 5, W Templeton 4, J McMillan 3, B McMillan 3, Josefsson 2, Whaley 0, Jansson 0:
Swindon Scorers
Briggs 12, Kilby 12, Broadbanks 11, Keen 8, Munday 7, Shuter 6, Hitch 5:
April 22 Exeter 50 Tigers 28 (British League)
Jansson and Josefsson must have been more than a bit travel weary after flying back from Sweden to Manchester and the driving down to Exeter. This was their fourth meeting in as many days and in three different countries! Jansson had a wary first ride around the County Ground bowl but then cut loose with two wins and a second. Jim McMillan was our only other heat winner when he took a 4-2 along with brother Bill in heat eight. Wild man Chris Blewett lived up to his reputation with a fearsome crash, which saw him trapped under his bike in the safety fence. Some nifty spannerwork was, reportedly, required to extricate him.
Tigers Scorers
Jansson 8, J McMillan 6, Josefsson 5, Berg 4, Dent 3, B McMillan 1,W Templeton 1:
Exeter Scorers
Ashby 12, Squibb 11, Street 9, Sweetman 8, Briggs 7, Blewett 2, Cake 1:
April 26 Tigers 39 Cradley Heath 39 (British League)
This was the night it all began to unravel! In the past, Cradley were not the most potent of visitors but this years side were considerably stronger than previous teams. Heat one took a lifetime to run! Berquist got a flyer from the gate but Jansson was hunting him down and looked to pass him up the inside, coming out of the second bend on the second lap. Berquist pulled back across his path and they collided and fell. Referee Chapman excluded Berquist but reversed this decision when Cradley protested. Following a counter protest from team manager McFarlane, he again excluded the Cradley rider…and then Cradley protested and he changed his mind again. This tooing and froing continued for some time, with the referee seeming to agree with whoever he spoke to last! The crowd were becoming restless and even tually couldn't care who was excluded as long as the race was restarted. In the end Jansson was excluded and Berquist withdrew from the meeting with rib injuries.
Former Tiger Coombes blew a tyre and fell heavily in his first outing and only managed one more ride but another exWhite City man, Chris Julians was having a great night. By heat nine, he had scored eleven from four starts although the Tigers were now leading by six points. Tactical substitute time! Trigg replaced Coombes and along with Andrews took a 5-1. He came out in the following heat and again took the chequered flag with Wakefield heading home a troubled Jansson – the scores were now level, and it stayed that way until heat thirteen, a last heat decider. Trigg and the impressive Julians lined up against Berg and Jansson, neither of whom were having much of a night. Julians took a chance at the gate and got a real flyer – not considered an unsatisfactory start in these simpler time! Berg passed him after a couple of laps and set off in a vain pursuit of race leader Trigg. Jansson made a heroic effort in the last lap and eventually passed Julians coming out of the last bend. A draw and probably a point saved, rather than a point lost.
Jim McMillan scored his second home maximum in April but worryingly Willie Templeton was tigers only other race winner
Tigers Scorers
J McMillan 12, W Templeton 8, Berg 6, Josefsson 5, B McMillan 4, Jansson 2, Dent 2:
Cradley Heath Scorers
Trigg 14, Julians 11, Andrews 9, Brown 3, Wakefield 2, Coombes 0: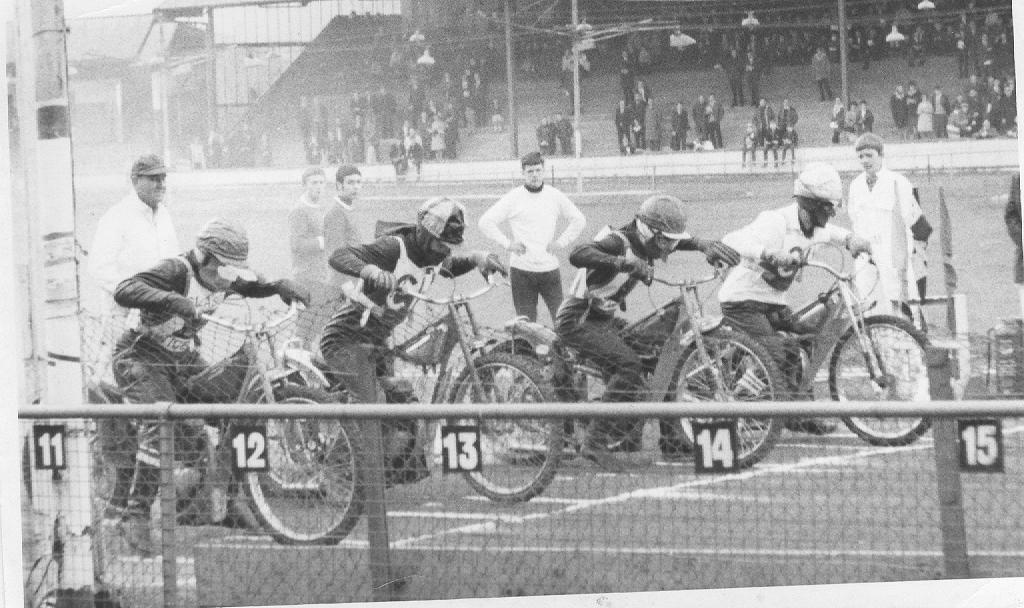 The eventful and much delayed Heat 1
April 27 Coatbridge 66 Tigers 42 (K.O. Cup)
I missed this cup tie as I was attending a family wedding in Edinburgh but the result was announced on "Scotsport" in time to ruin my night! I don't think I missed too much!
Jim McMillan and uncle Willie Templeton took the fight to the Monarchs but had little substantial support. George Hunter took a record setting seven ride paid maximum for Coatbridge, who used rider replacement to cover for the absent Bernie Persson. The only moment of controversy saw the excluded Doug Templeton satge a sit down strike in front of the tapes to stop heat eleven being started although he would later claim that the pit gate was open and that it was the only way to get the referees attention
The KO Cup race format saw the reserves, numbers seven and eight, have two programmed rides against each other. Bill McMillan and Brian Whaley took two 4-2 s in these encounters, and without these heats its doubtful that we would have broken the forty point barrier.
Now that we are out the Cup, we can concentrate on the league, I suppose!
Tigers Scorer
J McMillan 13, W Templeton 8, Berg 6, B McMillan 7, Jansson 3, Josefsson 2, Whaley 2, Dent 1:
Coatbridge Scorers
Hunter 20, Eide 15, Harkins 12, D Templeton 9, Hughson 6, Collins 2, Milloy 2: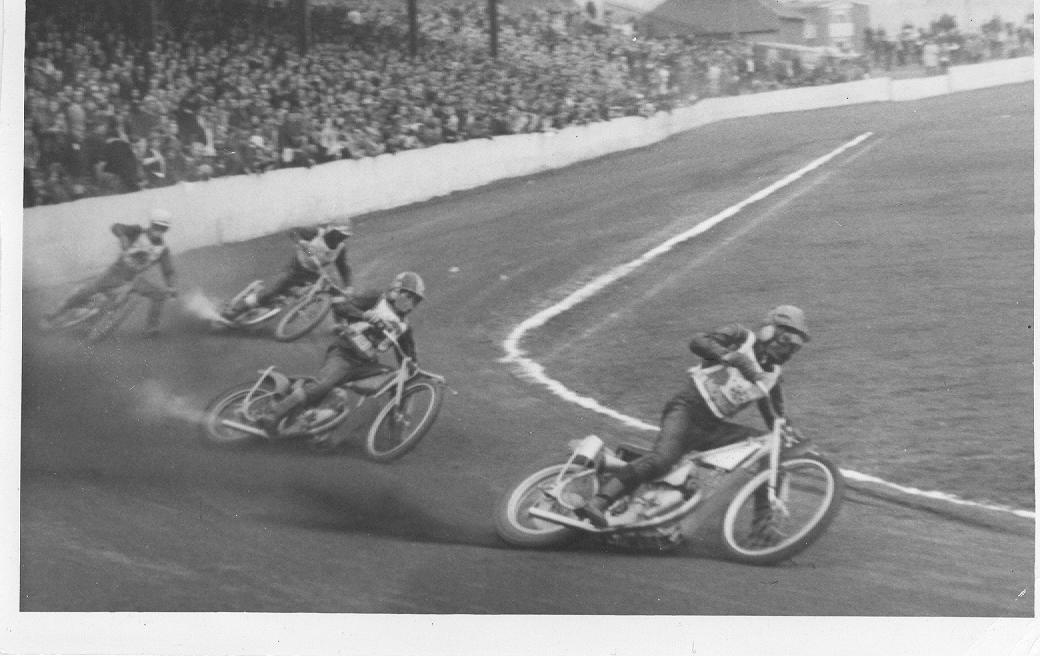 Hunter leads Jim McMillan, Oyvind Berg and Bert Harkins - look at the crowd!!